Our next meeting will be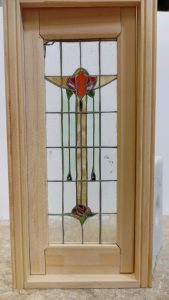 Saturday, July 16, 2022, at 1:30 PM. We will meet at Crown Heights Church of the Nazarene, 920 NW 46th St., OKC. See map below for directions. We will be broadcasting the meeting via Zoom. If you need access, please contact us through our Facebook page.
Marc is going to teach us how to make faux stained glass that we can use in polymer clay projects. Let your imagination run as you explore the many ways you can incorporate this idea into your next project.
Items marked will be provided to those attending the class in person. If you are joining us via Zoom and have any questions regarding the supplies needed, please contact us at the link above. We will answer your questions as quickly as possible.
1mm thick Plexiglas (provided)
Golf club tape or Lead foil adhesive backed tape (available at Amazon)
*Gallery Glass paint (1 or more colors of your choice)
*Note: You can use as many colors as you desire or go for a clear no color look.
Metal straight edge ruler
Xacto knife
Small green self-healing cutting mat if you have one
Toothpick
Small paint brush
**Pattern (provided)
**Note: There are 8 patterns on the sheet, but only one is needed.