It's almost time for our May meeting! It's coming up Saturday, May 9 at 1:30 pm CDT. But wait… can we meet in person? Do we have to cancel? Will anyone even come? Here's the good news! Even though meeting in person is not advisable yet due to so many of our number being in the high-risk category for the virus, we CAN meet virtually. We had so much fun with our Mini Virtual Retreat that we have decided to have our May meeting on Zoom. And our special guest this month is Debbie Jackson! How cool is that?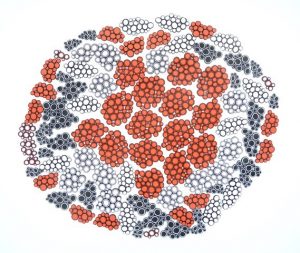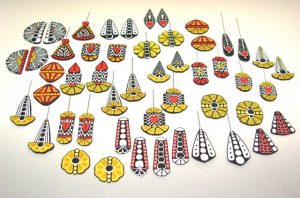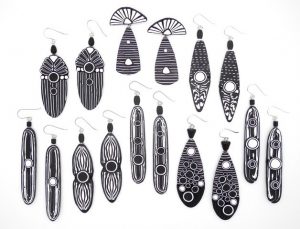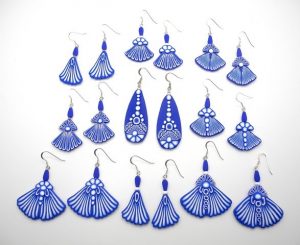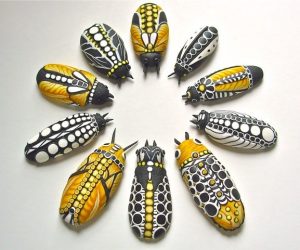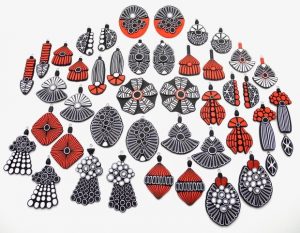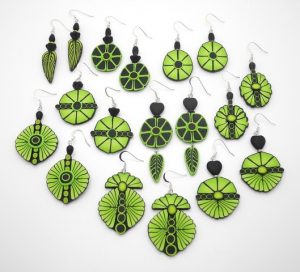 Debbie's topic is Transforming Canes. She is going to show us "how to create a collection of patterns from basic Bullseye Canes and learn a variety of ways they can be used in projects." I have a feeling Debbie's going to have some amazing ideas that we haven't seen before. The photos above are a sampling of things to be made with these techniques.
The supply list is simple and will be posted here early next week. You can just watch or you can clay along with us! One thing you will need is some Bullseye Canes. If you are new to polymer clay and want to know how to make them, here is a YouTube video you can watch. More details will be posted soon.
We will be using Zoom Cloud Meetings again. If you don't have the app, be sure to download it to your computer or mobile device before the 9th.  (Scroll down for mobile apps.) If you can set up a laptop or your mobile in your workspace so that you can clay with us as Debbie shows us what to do, that will be awesome! Otherwise, you can just watch and try the techniques later. To avoid "Zoombombing," I will be emailing the meeting ID and password to members and others who wish to attend. Please use the contact form to get in touch with me if you are not a member but would like to attend this virtual meeting.
See you soon!