This month, our meeting will be on Saturday, March 14, 2020, from 1:30-4:30 and will once again be held at Betty Bolerjack's home: 6712 Randi Rd, Oklahoma City
Betty will be teaching us how to make roses and will demonstrate several methods to create a rose. She will take us step-by-step through creating this beautiful rose pendant as our project. You will have the opportunity to make a slightly different pendant if you prefer. As an alternative, you can bring a box or a container such as the ones we made last month to which you can attach your roses.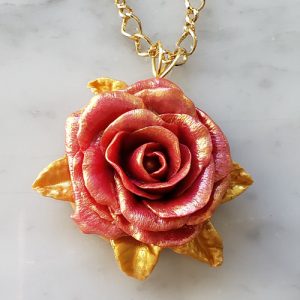 Your clay can be any color you choose for your rose. You will have the opportunity to practice making several roses.  You'll get a more realistic look if you mix your rose color equally with translucent. You can also use a skinner blend or light, medium, and dark shades. Please have your clay conditioned and colors mixed ahead of time to save time in class. Any color can be used for the bezel and leaves. 18K gold was used for both in the sample.
The edges of the rose petals can be colored using mica powder such as PearlEx or chalk pastels. A darker color, contrasting color or metallic add more interest. Mica can also be used to make the bezel look more like metal.  Some suggestions to get a metallic look: PearlEx Brilliant Gold on 18K Gold clay, Aztec Gold on Gold clay, and Macropearl on Silver clay.
Supplies
Clay – color of your choice for rose, bezel, and leaves.
Mica powder or chalk pastels (optional)
TLS or Clear Liquid Sculpey
5" 20 ga wire for bail or purchased bail (can also make out of clay)
Sculpey Bezel Mold or purchased bezel
Small box for carrying your project home if unable to finish during class (finished pendant is approximately 2 1/2″)
Tools
Large ball tool from Sculpey Style and Detail Tools or similar
Small ball tool, needle tool or toothpick
¾" circle cutter
Bail making pliers or ¼" dowel rod
Needle nose Pliers
Wire Cutters
Pasta Machine
Work Surface
Blade
Small soft paintbrush to apply mica powder or chalk pastels
The following tools are optional, but can be nice to have:
Leaf Veiner OR Wilton Flower Impression Mold
Leaf Cutter from Wilton Flower Cutter set OR Leaf Cutter Set