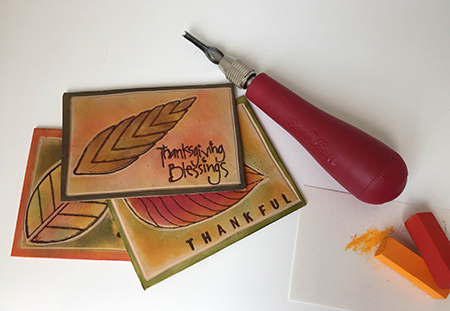 Our next guild meeting will be Saturday, November 12, 2016 from 1:30-4:30 p.m. in the Contemporary Arts Center at the fairgrounds.
This month, Angela will be talking about chalking and carving. We'll focus more on technique than on a specific project, so if you have an idea you want to do, bring what you need for that. Otherwise, just come ready to play. Angela will have some extra supplies, and we're good at sharing, so don't feel obligated to buy any supplies you don't have.
Tools
Pasta machine

Small ceramic tile for curing and working

Scissors

Carving tool, such as Speedball Linoleum Cutter

Clay blade and any other favorite clay tools

Work surface
Supplies
Chalks or artist soft pastels * (If you have them lying around, Angela likes scrapbooking chalks such as EK Success Chalklets or Inkadinkadoo artistic blending chalks, but these aren't readily available anymore.)

Chalk applicator, if desired (fingers work great if you don't mind getting messy)

Light neutral color clay such as Premo ecru, about 1 block (this should be enough for the main project and the fortune cookie mini-project)

3″ cookie cutter

Rubber stamps and solvent ink (such as StazOn), if desired for project *

Baby wipes
* Note: Pastel sets and rubber stamps are 30-40% off at Hobby Lobby this week. 
In addition to the main project, since the guild's first meeting was 10 years ago this month, Angela will revisit the polymer clay fortune cookies from our very first lesson.
If you have old handouts or other memorable items from the guild's early days, we'd love for you to bring them along.