A Samantha Burrows Tutorial Presented by Tom
Our next meeting will be on March 19, 2022 at 1:30 pm at the Crown Heights Church of the Nazarene, 920 NW 46th St., OKC. See map below for directions. We will be broadcasting the meeting via Zoom. If you need access, please contact Betty.
Tom is going to show us how to make a Silken Bubble Pendant.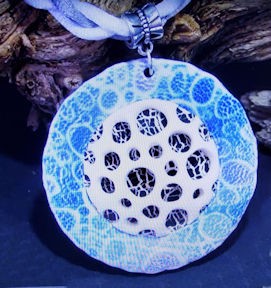 Tutorial and photo from Samantha Burrows of Jessama Tutorials – used by permission.
Supply list
Polymer Clay – one 2oz block white, ½ block black (in the demo I used Premo)
If you are planning to create texture stamps you'll also need 2oz scrap/leftover clay
or Bubble, pebble or cobble stone texture stamp/mat.
Preferably an innie and an outie.
Mini circle cutters
Hollow bead maker
Graduated Circle cutters set
Alcohol Inks (blues and purple are used in the demo but any colors you prefer are fine.)
Black Crackle paint (We will have some on hand if you don't have it)
99% isopropyl alcohol (a spritzer bottle works best)
Liquid polymer ( TLS, Bake&Bond, etc…)
A soft paint brush to be used with alcohol inks
Wet wipes
Texture mat / Sand paper for back of pendant
A round bottom bowl to serve as a form/mold in the oven
The usual clay tools:
Tissue blade
Pasta machine / or roller
Shaper tools
Pin drill