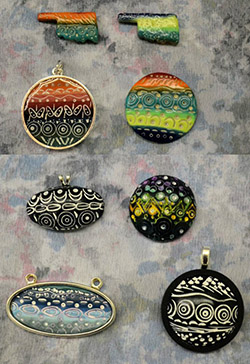 Our next meeting will be Saturday, October 10, 2015 from 1:30-4:30 p.m. in the Contemporary Arts Center at the fairgrounds. This is our raffle month, so if you won something in the last raffle, remember to bring an item for this one! We will also be trading inchies this time, with a Fall theme.
Angel Mance will present a fun demo of tribal-inspired designs at our October meeting.
Clay:
Clay colors of your choice in small amounts. We will be making cabochons from molds, or pendent shapes.  For the color blended technique bring small amounts of colors that you feel would make a nice blend. Angel got out all of her small pieces of clay and had fun using them up!
Tools:
Basic clay working tools
Pasta machine
Work surface
Paper towels & baby wipes
Findings:
Bezel cups or bezel findings (this is optional – Angel has quite a few of these from past retreat goody bags)
The supplies listed below are not required, but if you have them, bring them! Our group is pretty good at sharing!!
Extras:
White or light color craft paint
Paint brush
Tiny cutters
Tiny circle cutters (Myra sells a set of tiny circle cutters – she will have some available at the meeting)
Tiny oval cutters (many of you may have these cutters that Chris Crossland made and gave out at the 2015 retreat)
Miscellaneous tools or found "tools" to make patterns in clay
Cabochons molds or shape molds – the guild owns many wonderful molds
Shape cutters, cookie cutters – something that would work well for a pendant