🌸 Get Ready for a Blooming Good Time this Month! 🌸
Join us for an exciting meeting this month as Betty demonstrates the enchanting art of crafting Whimsical Florals. Originally planned for June, this demonstration was rescheduled, and we're now excited to dive into the world of polymer clay creativity.
🌼 What's in Store for You? 🌼
Betty will be your guide through this floral adventure, where you'll learn the secrets of creating stunning Whimsical Flowers. Here's a sneak peek at what she'll cover:
To ignite your creative spark, we've prepared a captivating photo carousel showcasing a variety of Whimsical Flowers. Be prepared to be inspired!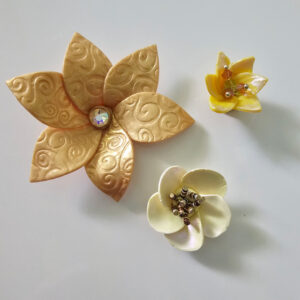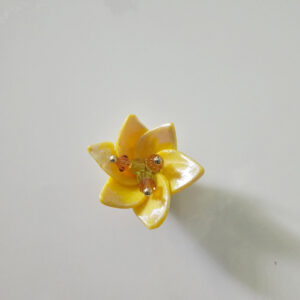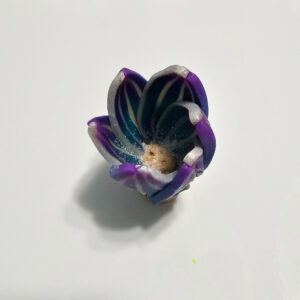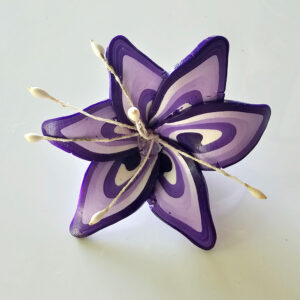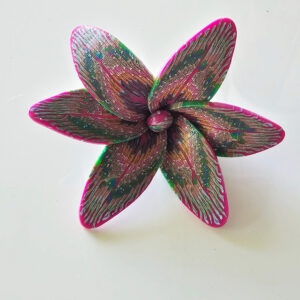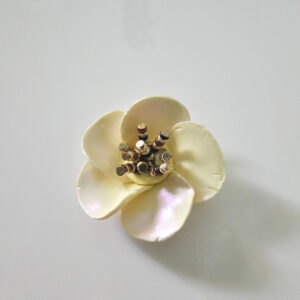 🌺 Two Distinct Petal Shapes: Betty will unveil the techniques to craft not one, but two distinct petal shapes, opening up a world of possibilities for your flower designs.
🌼 Diving into Color: Unlock the secrets of crafting Whimsical Florals by exploring solid color clay, using mesmerizing Skinner blends, and experimenting with canes to add depth and dimension to your floral creations. You can even incorporate the Bargellos you made last month to infuse a touch of color and creativity into your designs. See photo example below.
🌷 Explore Creative Textures: Betty will be demonstrating the use of realistic flower petal textures as well as novelty textures to achieve a more whimsical and imaginative look.
🌻 Crafting Stamens: Betty will show you how to make delicate stamens for your flowers using seed beads and ball head pins. You can get even more creative by using clay balls, hot fix crystals, or purchased stamens to personalize your flower centers.
🌸 Mix and Match: The beauty of polymer clay art lies in its endless versatility. Feel free to mix and match techniques and materials to make these Whimsical Florals uniquely yours!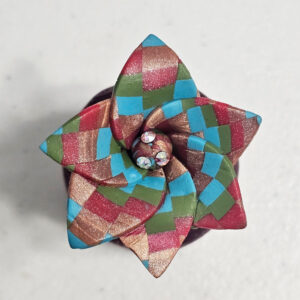 📅 Date: Saturday, November 18, 2023
⏰ Time: 1:30 pm
🏢 Location: Wesley United Methodist Church, 1401 NW 25th St, OKC. (map) Park on the west side and enter through the double glass doors (Contact us for the entry code). We meet downstairs in the basement. There is an elevator for anyone who has difficulty maneuvering stairs. Please contact us if you need help.
Polymer Clay in your choice of solid color(s), Skinner blends, canes, Bargello, or other veneers
Texture sheets (optional)
Work surface
Pasta Machine
Clay blade
Lucy slicer (optional)
Football or Teardrop shaped cutters (Betty will have both available to borrow and/or purchase.)
Large and medium ball tools
Needle tool
Liquid clay (or Bake 'n' Bond)
Head pins (ball style works well)
2-3 mm beads and crystals (Betty will bring a variety of seed beads)
Wire cutters
Chain nose pliers
Pastel powders and/or mica powders
Cardboard egg carton (Connie will bring some)
Mark your calendars, gather your supplies, and prepare to dive into a world of polymer clay magic. Don't miss this opportunity to learn and create alongside fellow clay enthusiasts. We can't wait to see you there!
🌼 Let's make this meeting a blooming success together! 🌼