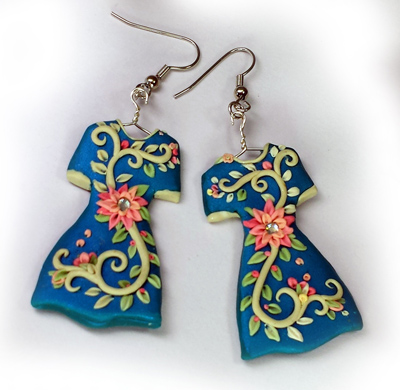 Penni Jo will show us how to create and embellish a tiny dress or gown for pendant, earring, ornament, etc. Dresses can be fancy or plain, your choice. The same technique can be used to make pendants or pins if you do not want earrings.
Materials
Wire plain or coated: 22 to 24 gauge
Polymer clay: Solid color of your choice for gown. Small amounts of two or three shades of clay for ombre ribbons. Flower & leaf colors. Translucent & white for swirls
Mica Powder: micro pearl, or for dark colors, interference gold or other interference colors. If you choose a light colored clay, you'll need regular Gold Mica powder as Interference Gold will not show up well on light colors. (I will have a variety of mica powders for use in class for use.)
Findings: jump rings – 4, earring wires – 2, optional: eye pins and or headpins if dangles are desired.
Optional: Bake 'N Bond or Poly Paste. (Penni Jo will have some in class for use)
Tools
Clay tools like Penni Jo's Clay Tools or your favorite
Jewelry tools: round nose pliers and a wooden clip clothespin
Scissors
Guild announcements: We will be voting on Lisa Pavelka's classes for our upcoming retreat at the November meeting. See the choices here. If you can't come to the November meeting, contact Tom or someone else to act as your proxy. Let your voice be heard! It's also inchie month, and our theme is Fall/Thanksgiving.