☃️ Celebrate the Season ☃️
It's the most wonderful time of the year, and our annual Christmas Party is just around the corner! Get ready for an afternoon of festive fun, yummy snacks, and the joy of sharing the holiday spirit with your fellow polymer clay enthusiasts.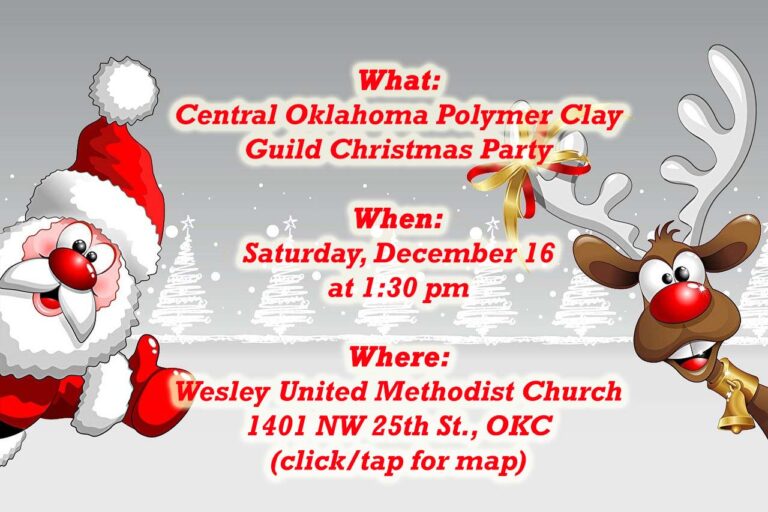 🎁 Dirty Santa Gift Exchange: Bring the gift of polymer clay magic! Create a hand-crafted polymer item using a technique learned this past year or one you simply enjoyed making and sharing. Remember, these are not gag gifts; they should be something you'd love to receive.
🎅 Dirty Santa Rules: See below. Get ready for lots of laughs and festive surprises!
🍬 Holiday Treats Sharing: Share the joy of the season by bringing a plate of your favorite holiday treats or finger foods to enjoy with everyone. Plates, napkins, and forks will be provided. Please let Connie know what delightful treat you plan to share.
🎉 Crafty Conversations: Reflect on the creative year gone by and share your favorite polymer clay projects and techniques with fellow enthusiasts.
This Christmas Party is not just an event; it's a celebration of our creative community. Let's make this afternoon unforgettable with laughter, camaraderie, and the magic of polymer clay!
🎄 See you there, ready to unwrap the joy of the season! 🎁
How to Play Dirty Santa
Everyone playing the game brings a hand-crafted polymer item. Please, please bring an item. It is so much more fun with many participants.
VARIATION: Since we will be showing off our gifts during Show & Tell, gift bags will be provided to mask the items for the game. Just to keep it in the spirit of Dirty Santa.
Numbers are written on pieces of paper for every gift and placed in a basket, bowl or hat.
Each person draws a number. Getting a higher number is actually better because you will have more chosen gifts to choose from.
The person with #1 picks a gift to open from the array of gift bags. The person with #2 can choose to take another bag or steal the gift from #1. If a gift is stolen, the person who had it then steals from someone else or picks another gift to open. Gifts stolen cannot be directly stolen back. They must be in the pool of opened and unopened gifts for at least one turn.
The game continues like this until everyone takes a turn select an item or stealing an item. The last person to go can steal from anyone in the game or select the remaining item.
NOTICE: If the first person has not had their selection stolen during the game, they may steal a gift from anyone else. This may open a new round of stealing, but that's the nature of Dirty Santa.
Once a gift is stolen three times, it is retired from the game.