Next Guild Meeting: Saturday, October 15, 2022 at 1:30 pm CT at Betty's house, 6712 Randi Rd, Oklahoma City, OK (see map below)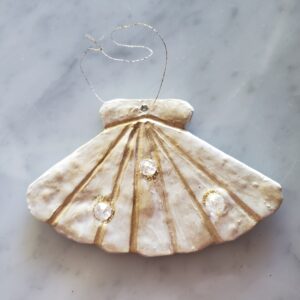 By special request, we will be making Chrismons, a word that is short for Christ Monograms. They are special Christmas ornaments that are symbols of Christ created in white and gold. The class will be taught by Betty. There are a wide variety and she will have many to choose from. Just bring your imagination and creativity along with the following supplies and tools.
The meeting will be available via Zoom. Please contact Betty if you need access.
White or Pearl Clay, at least one block
Gold Clay (optional) 
Something gold to trim your Chrismon with. This could be any of the following. (Note: Silver can also be used as well as a tiny bit of red/green, but gold is the primary color.)
Acrylic paint
Mica powder (such as PearlEx)
Glitter
Inka-Gold
Gilder's Paste
Seed Beads
Gold & Pearl beads
Etc.
Pasta machine
Acrylic roller
Exacto knife
Scissors
Needle tool or toothpick for making a hole
Patterns (provided for those who attend in person)
Quilting template plastic (provided for those who attend in person)
Any other tools you think you might want or need!
Here are some links to patterns, ideas, and quilter's template sheets.
This is a website owned by a friend of mine. He has many resources, including photos of cross stitch Chrismons. I have adapted these in the past to use as patterns.
Scroll down below the symbols on this page for a link to download a PDF of Chrismon patterns.
Quilting template plastic