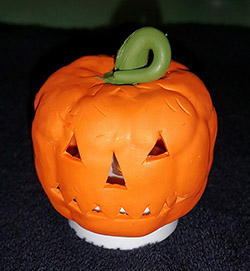 Our September meeting will be in the Story Time Room at the Moore Public Library (225 S Howard Ave, Moore, OK) instead of our usual meeting place, due to the State Fair. For those unfamiliar with Moore, here is a map.
Connie will present our project for this month – a jack-o-lantern illuminated with an electric tea light.
Supplies
2 oz. of orange clay
1/4 of green or brown for stem
Tools
Cutting blade
Paper tape measure (to measure around body of pumpkin)
Craft knife (to cut out face)
Round cutter 1 3/8 or 3 1/2 mm to get clean cut on bottom
General clay tools (to make ridges and indentions)
Pasta machine to make flat sheets of clay (orange sheets you can bring already done. setting on #2 with 0 being the thickest. Needs to be wide enough to cover from top to bottom and go all the way around body)
Work surface
Magic noodles (Connie will bring these)
Battery tea light (available at Dollar Tree). If you want it helps you know how big around pumpkin needs to be.
Box to carry your project home – we have no oven this time.