CANCELED! Please note that the September meeting has been canceled due to illness. See you in October!
UPDATE: The September class/project is being moved to October. September will be a play day.  Bring whatever you want to work on.
PLEASE NOTE: We have changed our meeting day to the THIRD Saturday of the month.
The September meeting will be on the 18th at 1:30 pm at Betty's home at 6712 Randi Road, Oklahoma City (map). We will also be offering it on Zoom. Please contact Betty for info to join us via Zoom.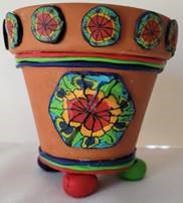 Jane and Penni Jo will show us how to apply the Medallion Canes we made in August to a flower pot. They will also have instructions for making a wind chime with flower pots as well as ideas for other projects (see below).
Tools:
Work surface
Knife
Pasta Machine
Craft Knife
Straight edge
Scissors
Poly Paste or Bake and Bond
Optional:  Extruder…  It is not a problem if you don't have this!

Clay:
The cane you made in August. If you didn't get to make the cane, please Contact Us so that we can get the instructions to you.
Project:
Small terra cotta flower pot.  I used approx. 4 1/2 inch diameter but use whatever size you wish.
(I also used my medallion decorated terra cotta flower pot to make a wind chime..
if you would like to do this,  you'll need:
3 terra cotta pots of  decreasing sizes
minimum 45 inches of jute or cord
4 beads larger than that drain holes in the pots.  I used wooden and clay beads that I made).
However, if the flower pot doesn't appeal to you, this cane can be used on–Picture frame,  handle for food serving piece,  buttons,  hair barrette,  bowl,  pendant, bracelet, coaster, pen/ craft knife, etc.