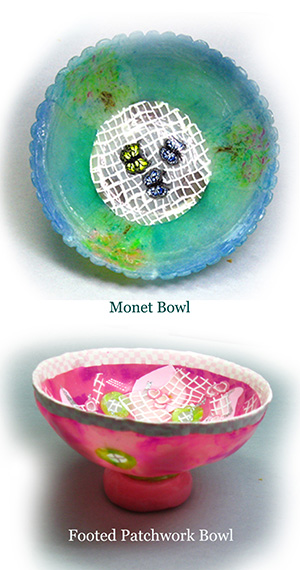 Our next meeting will be Saturday, November 14, 2015 from 1:30-4:30 p.m. in the Contemporary Arts Center at the fairgrounds.
Penni Jo and Jane will present our project this month – small decorative bowls. These photos are examples of what can be done with different choices of colors, style, canes, and more.
Materials:
Small, oven safe bowl can be glass, Pyrex type glass, Corel® or metal
NOTE: Please bring a small bowl, as our oven does not have room for very many large bowls and they take longer. We will have a few extra little bowls. The bowl used in this tutorial was purchased at Dollar Tree. They were three for a dollar a few years back.
Strong polymer clay in your choice of colors – about 3 to 4 ounces, depending on size of bowl

2 or 3 sheets deli or candy paper (will be provided in class if needed) 

Work surface and baking surface (can be the same, like a tile, etc.) 

Brayer or acrylic rolling rod or pasta machine

Sandpaper 

Knitting needle or Penni Jo's Clay Tools

Your favorite, regular clay tools

Blade

Scissors
NOTE: If using slices of blocks, mokume gane or canes, you will only need enough extra clay for ropes to join the parts. Also if you have a Simple Slicer, it will make larger slices much easier to cut. (The bowl I brought was covered with slices from a Stroppel cane. The lines between the slices were joined with ropes of clay.)
Optional:
Chalks, soft paint brush about 1/4 inch wide

Crayons

Acrylic paints with brush

Stamps

Alcohol inks, alcohol in spray bottle, rubber glove, paper towels

Colored markers or colored pencils

Pearl powders

Glitter

Metallic leaves

Molds