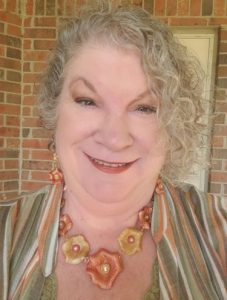 Our September meeting will be held at the home of Betty Bolerjack, 6712 Randi Rd, Oklahoma City on 09/12/2020 at 1:30 pm. Park on either Randi Rd or 67th St and come in either the front door or the back. You are welcome to join us on Zoom if you are unable to be with us in person. Zoom details will be available on our private Facebook group and will also be sent out via email. Please contact Betty for more info if you wish to attend as a guest via Zoom.
This month, Betty will be teaching us how to make simple, but fun Anemone jewelry. We will create the flowers, bake them, then put the jewelry (necklace, earrings, bracelet) together. If you have never tried polymer clay and would like to see if it's something you would enjoy, this is the class for you! Very few tools are needed and some of those can be found around the house. This class is designed so that you can gather your supplies and take them to your computer so those joining us via Zoom can also create along with us.
Please have your clay conditioned and any custom colors you wish to use mixed ahead of time. Sheet your clay on #3 (medium) setting on your pasta machine. If you are rolling it out by hand, it should be approximately 5 playing cards thick.
Supplies
(Please note that if you are new and wanting to just dip your toes in, Betty has many of these items that can be borrowed if you are with us in person)
Clay: 
Approximately ½ pkg (1 oz.) each of 3 colors. You can also make the flowers in just one color for which 1 block (2 oz.) would be plenty. If using a single color, you will need a small amount of a contrasting color clay for the centers.
Findings and other items:
6mm jump rings in a finish to coordinate with your chosen clay color(s)
Clasps of your choice
1 pair earwires
Swarovski Hot Fix or other flat back glass crystals, sizes 12ss, 20ss, and 30ss (optional). If you prefer, clay beads can be made for the flower centers.
Extra-Fine Glitter (coordinate with your clay colors)
PearlEx or other mica powder (coordinate with your clay colors)
Sculpey Gloss Glaze, Varathane, or other finish of your choice
Tools:
Work surface
Baking tile
Pasta machine or clay roller with playing cards (do not need to bring if your clay is prepared ahead of time)
Clay blades
Graduated round cutters ( ½" or ¾", 1", 1 ¼", 1 ½", 2")
Something to create texture – a piece of lace, a favorite texture sheet, a ball of aluminum foil, low grit sandpaper or stair tread, etc.
Stiff brush – could be an old toothbrush – stiffer is better
Needle tool or toothpicks
Small paintbrushes to apply glaze and mica powder
Needle nose pliers to open and close jump rings
Any other favorite tools you might want to use