For our May meeting which will be held on Saturday, May 21, 2022 at 1:30 pm,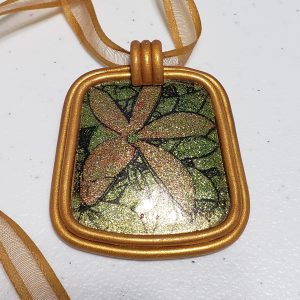 we will be making transfers from line drawings to be turned into jewelry or other small projects of your choice. Betty will also show us how to color our transfers with Chameleon Markers.  Contact Betty for what is needed if you prefer to make something other than jewelry. Connie will also be demonstrating how to use Magic Transfer Paper.
We will be meeting at Crown Heights Church of the Nazarene, 920 NW 46th St., Oklahoma City. See map below. The meeting will also be available via Zoom. Contact Betty for access info.
For Pendant and Earrings:
Light colored clay 
Gold or black clay for back of pendant (or color of your choice – I like to use Premo 18k Gold)
Line drawing printed/copied with toner on non-recycled paper (I will provide several line drawings. However, if you have a drawing that you would like to use but can't get the right kind of copy, we can copy it at the church.)
Clear hand sanitizer (Provided)
Bone tool or other burnishing tool
Cutters or templates in your favorite pendant/earring shapes
Alcohol markers, e.g., Chameleon or Copic Markers (We will have Chameleon Markers available for you to use if you don't have any – another option would be alcohol inks using a small brush or Q-tips)
5" Ikea bowl for adding a nice curve while baking (I will have some available to use)
Mica powder (optional – I like using gold mica on the gold clay to give a more metallic look)
Texture sheet, e.g., stair tread to texture back of pendant
Varathane or other sealant compatible with polymer clay
Findings – jumprings, ribbon crimps, clasps, etc.
Ribbon (I will bring my ribbons) or cord
Extruder (optional for creating border and bail)
Jewelry tools/pliers if you have them
Work surface
Pasta machine
Your favorite clay tools