It's almost time for our March meeting! We are continuing to meet at Wesley United Methodist Church, 1401 NW 25th St. (map). Our meeting will be at 1:30 pm on Saturday, March 18. Park on the west side and enter through the double glass doors (message us on Facebook for the entry code). We meet downstairs in the basement. There is an elevator for anyone who has difficulty maneuvering stairs. Please contact us if you need help.
We will be making Bottles of Hope this month. We are planning to create masculine themed bottles this time. Tom will be taking them to The Oklahoma Proton Center for patients being treated for prostate cancer.
There is no supply list this month as we will all be using our own ideas. So bring what you need to create a unique Bottle of Hope. If you need bottles, Tom will have some available. He has made many and will be able to provide guidance if you have never made a BOH.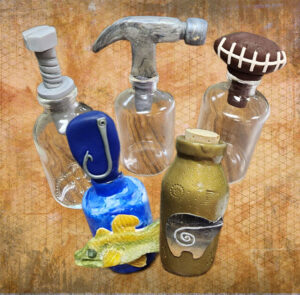 What are Bottles of Hope? "Bottles of Hope are small glass bottles covered with polymer clay and given to cancer patients. They symbolize a wish and a hope for health"  Visit the Bottles of Hope website for more information and some inspiration!