Meeting Canceled! See you in July!
This month, Betty will be demonstrating how to make these Fantasy Flowers. She will be showing two different petal shapes along with how to create them with solid color clay, Skinner blends, and canes. She will also demonstrate how to make stamens for the flowers from seed beads and ball head pins. You can also use balls of clay, hot fix crystals, or purchased stamens for the centers. Mix it up and make these flowers uniquely yours!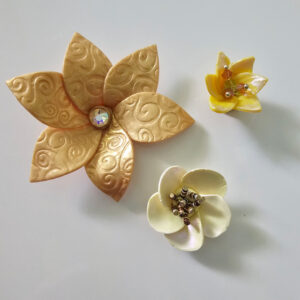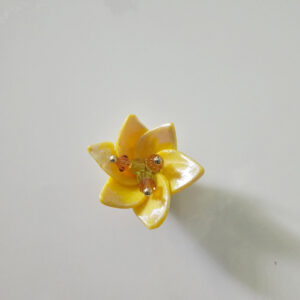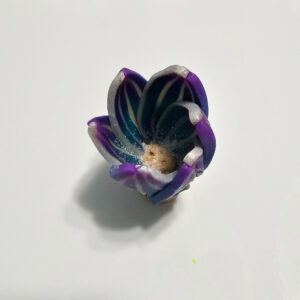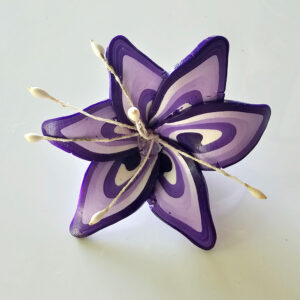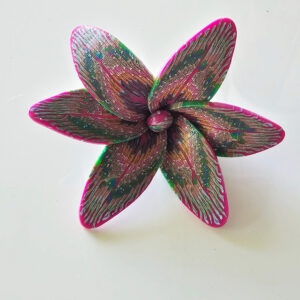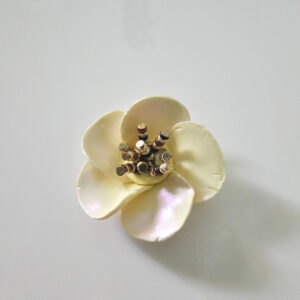 We will meet on Saturday, June 17 at 1:30 pm CT. The location is Wesley United Methodist Church, 1401 NW 25th St, OKC. (map)  Park on the west side and enter through the double glass doors (message us on Facebook for the entry code). We meet downstairs in the basement. There is an elevator for anyone who has difficulty maneuvering stairs. Please contact us if you need help.
Polymer Clay in your choice of solid color(s), Skinner blends, or canes
Texture sheets (optional)
Work surface
Pasta Machine
Clay blade
Lucy slicer (optional)
Football or Teardrop shaped cutters (Betty will have both available to borrow and/or purchase. See below.)
Large and medium ball tools
Needle tool
Liquid clay (or Bake 'n' Bond)
Head pins (ball style works well)
2-3 mm beads and crystals (Betty will bring a variety of seed beads)
Wire cutters
Chain nose pliers
Pastel powders and/or mica powders
Cardboard egg carton (Connie will bring some)
Note from Betty about the cutters: I am excited to announce that I have succeeded in creating some incredible cutters in both football and teardrop shapes with a sharp cutting edge. I have made pendants and earrings in both shapes with cutters I purchased years ago at the recommendation of Helen Breil. I'm pleased to finally have some available for sale that I am proud to offer. They will be available in sets of 4 of each shape, ranging from 20mm to 50mm in cut length. You will be able to purchase these, if you desire, at the introductory price of $8/set at the Guild meeting only. They will be offered on my website soon at $10/set. If you have questions, you may contact me at betty@sweetirisstudio.com