We will be having a meeting on June 12, 2021, at 1:30 pm.  We hope that you will join us in person at Betty's house, 6712 Randi Road, Oklahoma City (map). We will also be using Zoom in order to include as many as we can as we will be making some important decisions at this meeting. Please contact Betty for info to join us via Zoom. 
For our project, we will be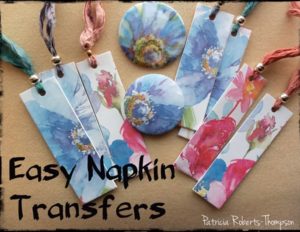 following Patricia Roberts Thompson's tutorial on Easy Napkin Transfers to create bookmarks and/or pendants.
You will need:
Colorful 2-3 ply napkins (find at the Dollar store?)
White clay
Pasta machine
Work surface
Small circle cutter
Clay/Tissue blade
Other cutters for pendants, if desired
Tile (bookmarks) or domed surface (pendants) for baking
Bowl for water
Scissors
Patty paper or parchment paper for burnishing
Small piece of terry cloth