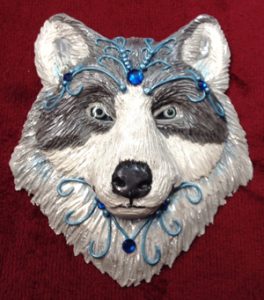 Our next guild meeting will be Saturday, June 9, 2018 from 1:30-4:30 p.m. in the Contemporary Arts Center at the fairgrounds.
The inimitable Chris Crossland will lead us in making a majestic wolf bas-relief sculpture. Here are the notes from Chris:
We are so excited to be presenting the class at the guild meeting in June! Even if you do not consider yourself a sculptor, you will be able to create this majestic creature using the templates and techniques I will teach you. We will be making a gray wolf, but it can be made in any color combination by using the color mixing method I will show you. PLEASE, PLEASE, PLEASE have your master mix ready when class starts because this mixture will be the mid-value of the wolf. The light and dark values will be mixed in class using various amounts of this master mix.
Tools
Blade
Exacto knife
Needle tool
Christi Freisen WIA (Wow It's Awesome) tool…or your favorite sculpting/texturing tool
Large ball tip tool
Knitting needle in 2 or 3 sizes
Ceramic tile 6" x 6" (wolf will be sculpted on the tile and will be baked at home on the tile)
All required templates will be supplied, cut out and ready to use. We will also provide pre-baked eyes. You will have a choice of golden or blue eyes.
Master Mix (PREMO)
Mix one 2-oz block each of silver, pearl and white clay. Roll out on a #1 thickness or the thickest setting on your pasta machine.
Additional Premo clay needed in class (all based on 2-oz blocks of clay):
1 block white
½ block graphite pearl
¼ block black