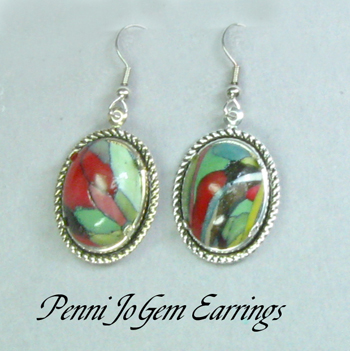 Our next guild meeting will be Saturday, June 10, 2017 from 1:30-4:30 p.m. in the Contemporary Arts Center at the fairgrounds.
Penni Jo and Jane will lead us in this fun class. To make this project, please keep your different scrap colors separate from each other. We will be rolling each separate color into a series or rolls and doing something special to each roll before assembling the cane.
This original and unique class was inspired by a TV show about beautiful jewels created from dried and dyed heather. Their technique creates beautiful, gleaming, 'stonelike' cabochons called Heathergems®.
We have re-created this look using scraps of polymer clay.
This polymer clay class will allow the student to create Heathergem-inspired "Scrappy PenniJoGems" cabochons & beads from leftover clay. Since most people work with their favorite colors, the Scrappy PenniJoGems usually come out quite appealing and unique to the artist.
These beautiful cabochons are wonderful for earrings, pendants, bracelets, hair barrettes, home décor and more.
To speed up your work, condition your scraps before coming. Do not mix up your colors, just soften each individual scrap of clay so that each scrap can be rolled into a roll in class. Keep your scraps of clay separated as much as possible before coming to class as we will be rolling each separate color or blend into a series or rolls and then do something special to each roll before assembling.
Materials:
Polymer Clay: Good clay scraps, at least two to three ounces. Or, any mix of your favorite colors. Skinner Blends, Metallic and Pearl or Metallic scraps work very well. Even old canes can be used.

"Junk" clay to make the cabochon backing.

Rigid tissue blade for cutting slices.

Heavy body acrylic paint. Black, dark brown, dark blue or dark purple (We'll have some in class to use)

Clay tools and favorite tools

Newspaper or other paper on which to paint.

If a shiny finish is desired, polymer clay friendly varnish and brushes for polymer clay.

Cabochon Molds or cutters (need plastic wrap for curved edges)
Optional:
Pasta Machine

Embossing powders, dark colors of your choice. (these can add bits of sparkle or texture.)

Mica powders, iron on Jewels if you wish to add jewels to your designs.

Findings for cabs

Elastic cord for Tile Bracelet
Teachers will bring:
Wax paper/aluminum foil

Cabochon Molds

Cutters

Saran or Glad Wrap
Project Ideas:
Pendant

Earrings

Tile Bracelet (1" cutter ?)

Stick pin

Barrette

Frame Tiles

Mosiac Focal Designs
Penni Jo has provided a handy guide you can download for future reference. Thanks, PJ!!