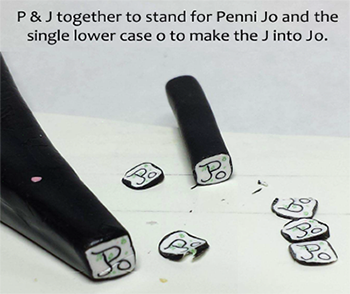 Our next meeting will be Saturday, June 11, 2016 from 1:30-4:30 p.m. in the Contemporary Arts Center at the fairgrounds.
At this month's meeting, Penni Jo and Jane will show us how to make and reduce a cane with initials for adding to polymer clay projects when finishing.
Materials:
Clay: Background = at least one full block of white [2 ounces] Letters = 1/4th block of very dark clay [we used black]
NOTE 1: To create a crisp, clean design use black and white clay (or your choice of clay with very strong value contrasts)
NOTE 2: these two colors need to be the same brand and the same softness of clay!
NOTE 3: If using soft, new clay you may need to leach it at home before guild.
Tools:
Pasta machine or playing cards for hand-rolled clay

Roller: a brayer or acrylic rod to square up the cane

Work surface

Blades: one rigid and one flexible

Optional = acrylic disks for reducing canes, or scrap clay can be added to the ends of the finished clay to reduce the cane evenly

Even more optional: if you have a recent cane like a heart or other very simple cane you might be able to add it to the cane.