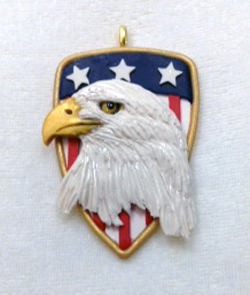 Our next guild meeting will be Saturday, July 8, 2017 from 1:30-4:30 p.m. in the Contemporary Arts Center at the fairgrounds.
This is Inchie month, with a theme of Summer.
The always entertaining Chris Crossland and her trusty sidekick Karen Humphries will lead us in creating a patriotic eagle & shield pin/pendant, so appropriate for July!
Supplies:
Bake & Bond

Mica powders: Pearl-ex Pearl White, Aztec Gold, Sunset Gold

Glue-on bail for later

 
Tools: 
Your favorite tools and:
Needle tool

Christi Friesen's WIA tool (or whatever you use to sculpt)

Size "0" knitting needle

X-acto® or craft knife with sharp blade

Kemper Star cutter 3/8″ (if you don't have it, we will cut the 3 stars for you)

Extruder with a 1/8″ round disc

PJ's Smooth Hair texture sheet
Clay Colors
These colors of clay are used to make the colors we will be using in class: White, Pearl, Cad Yellow, 18K Gold, Cad Red, Navy (or Ultramarine Blue and Black to make Navy clay)
Color Recipes for class:
To save time during the meeting, it is suggested that the following colors be mixed and/or conditioned ahead of time:
White mix:  1/2 block White + 1/4 block Pearl

Beak mix:  1/8 block Cad yellow + 1/8 block 18K Gold

Shield trim & backing:  1/2 block 18K Gold

Shield stripes:  1/4 block Cad Red

Blue Shield Top:  1/4 block Navy (if you don't have Navy clay, mix 1/4 block Ultramarine Blue + 1/16 block Black)