by Connie (a Jan Edward Montarsi class with a twist)
Our January meeting will be Saturday, January 15, 2022, at 1:30 pm. It will once again be held at the Crown Heights Church of the Nazarene, 920 NW 46th St., OKC. See map below for directions. We will be broadcasting the meeting via Zoom. If you need access, please contact Betty.
Connie has been the "mad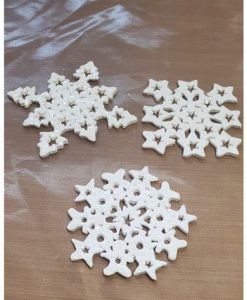 scientist" since Jan shared his snowflake technique with us over a year ago. She has made many, many snowflakes and has come up with her own twists to make the process a little easier. Jan may even join us via Zoom to see what she does! Below is the supply list that Connie recommends.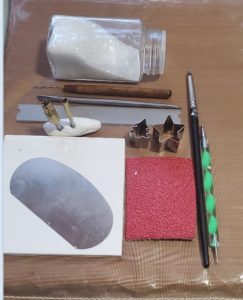 White clay with tiny bit of blue or pearl 2oz conditioned, roll out thick setting
Glass glitter fine with (box lid to hold glitter (I will bring this!)
Work surface, pasta machine, basic tools
Set of Mini Christmas cutters (my favor is one inch star and mini Christmas tree
Also tiny cutters
Something for texture:  shoe tread or very rough grit sandpaper (I will bring some to use)
Penni jo tool set is good:
Scraper, tool to blend. Ball tool
4 inch tile