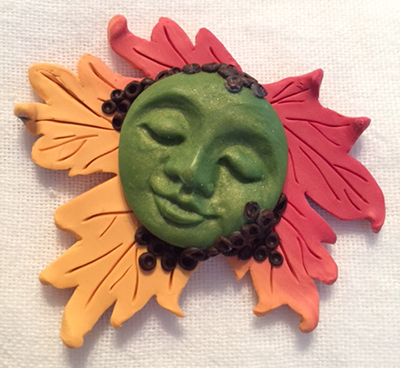 UPDATE: Due to the impending ice storm, our meeting has been postponed one week, to January 21, 2017. Same time as usual, but we'll be in Studio 2. Please check in at the front desk when arriving to get a sticker to wear while you're in the building.
---
Happy New Year! Our next guild meeting will be Saturday, January 14, 2017 from 1:30-4:30 p.m. in the Contemporary Arts Center at the fairgrounds.
Katherine Barnes will present our lesson this month. We will be making a Leaf Pin, either a "spring" version or a "fall" version.
Materials
Bake & Bond (must have to attach the cabochon to your raw clay)
Polymer clay for your leaves – your choice to make a Spring Leaf pin (green clay) or make a Fall Leaf pin (several different fall colors)
Tools
Pasta machine
Work surface/4×4 tile
Blade
Scissors
X-Acto knife
Needle tool
Brayer or rod for rolling
Favorite claying tools
Optional Items
Small ball stylus (add texture)
Small knitting needle (for tendrils, if desired)
Soft, small paintbrush (for antiquing, if desired)
Leaf molds
Mica powder or chalk (to accent your leaves)
Katherine will provide:
Moon Face Cabochon (green; made with Premo; about the size of a quarter)
Pin Back w/clutch
Leaf template (paper outlines; you'll need scissors to cut them out)
Leaf canes (Katherine has made several, very small, leaf canes to add for accents. Feel free to take a few slices to add to your pin creation)
Acrylic paint for antiquing (colors: black, white, dark brown, or turquoise)
Reminders
This Saturday we will have a:
    Swap: Winter-themed inchies

    New drawing: The people who won the last drawing are: Laura, Angel, Tom and Deborah.

    Election of officers: If you have a person you would like to nominate please send this info to Penni Jo or bring it up during the election.