Our next meeting will be Saturday, February 14, 2015 from 1:30-4:30 p.m. in the Contemporary Arts Center at the fairgrounds. Enter from Gate 5, across from Forest Lumber on May Ave.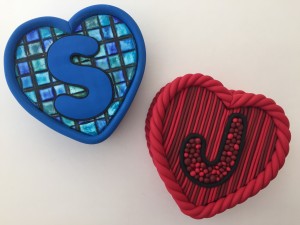 This month, Angela will be teaching us how to use cookie cutters to make polymer clay containers.  This technique was used by Heather Roselli in Irene Semanchuk Dean's book The Weekend Crafter: Polymer Clay: 20 Weekend Projects Using New & Exciting Techniques, and Dean generously granted Angela permission to teach the project at our meeting.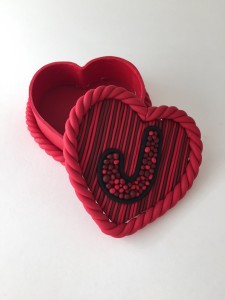 Materials
Clay to make the container, approximately 3 oz (one and a half packages). You may choose to make the walls, base and lid of your container the same color, or you may want to mix things up.
Additional clay colors, canes, etc. for your embellishing your container
Liquid polymer clay *
Corn starch, Repel Gel, or other release agent *
Tools
Pasta machine
Metal cookie cutter in whatever shape you want your container to be *
Clay blade
Craft knife or Sculpey 5-in-1 Tool Kit
Clay extruder *
Knitting needle or

Penni Jo's Clay Tools *

Any other favorite clay tools you might want
Stamps, textures, transfers, or anything else you need for your design
Working surface
* Don't worry if you don't have the items marked with asterisks. Angela will bring extra to share.