Our meeting will be held August 10th from 1:30 to 4:30 at the Oklahoma Contemporary Arts Center at the State Fair Park (3000 General Pershing Blvd.).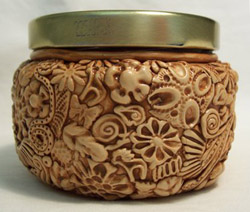 Lee Ann will be presenting Texture Encrusted Whatzits. She doesn't know the real name for it, she just knows it's fun. If anybody knows, please inform her!
Supply List
1/2 pkg any color of your choice for the base and 1/2 pkg of a contrasting color for your texture  – or you can do both in the same color. Hey, we're flexible.
If you are covering a vessel, roll out base color on 3rd-thickest setting of your pasta machine. Don't bake.
Small amount of scrap clay (approx 2×3 on thickest setting).
Mold release-cornstarch or spray bottle with water.
Molds – buttons, Penni Jo's molds, rubber stamps, or molds you've made yourself. I will have some you can use and some you can keep.
Work surface that clay will stick to
Card stock
Pasta Machine
Blade
This month it's Inchies with the theme of "Sunshine".