The October Meeting will be Saturday, October 16, 2021, at 1:30 pm. We will once again be meeting at Betty Bolerjack's home, 6712 Randi Rd, OKC (map) 
The meeting will also be broadcast via Zoom. If you are unable to join us in person, you may contact Betty for info to join us on Zoom.
Penni Jo and Jane will be showing us how to reduce and use the Medallion Cane we made in August. The supply list is below. If you didn't get to make a Medallion Cane, feel free to bring any other cane with which to decorate your choice of project as the principles will be the same. We hope you'll join us!
Part 2, Medallion Cane, Reduction and Projects
Supplies:  
Medallion cane from Part 1 (August 14) or cane of your choice
Tools for Reduction:
6-inch ruler
Acrylic rod
Blade
Worksurface
Acrylic sheet, 1/8-1/4 inch thick    (I will be bringing some acrylic sheets to use).
Optional: 6-inch tile
Optional:  "Polymer Clay Cane Reducing Guide" by Cheryl Reich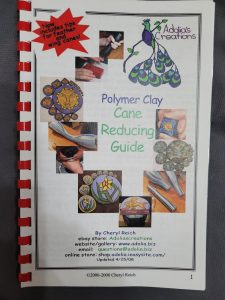 Some ideas for Projects with Medallion cane:
Terra Cotta Wind Chime (See photo below in September post)
Supplies:
3 Terra Cotta pots of decreasing sizes
Minimum 45 inches Jute or Chord
4 Beads larger than the drain holes in the pots.   I used wooden and clay beads ( that I made)
Salt and Pepper Shaker
Supplies:
Salt/Pepper Shaker, your choice of size
Sculpey Bake and Bond
Serving Utensil
Supplies:
Serving spoon, fork, etc with flat handle
Water-soluble white glue.  If not wrapping clay around the handle back and front, coat handle with water-soluble glue and let dry.