Our next guild meeting will be Saturday, July 13, 2019 from 1:30-4:30 p.m, at New Day Church of the Nazarene, 5949 NW 39th Expressway in Warr Acres. Enter through the glass doors near the back of the building.
This is inchie month, with a theme of "Summer". We will also have a drawing this month, so if you won something last time, bring some goodies for this one!
Betty will be teaching us how to make either floral or beaded earrings. Both are the same technique. These are fun earrings to make and can be as long or as short as you want, depending on the chain you use and the number of links. Fewer or smaller links will result in shorter earrings while larger or more links will give you longer earrings. The samples were made on 4mm curb chain using 6 links for each earring.
Please have your beads made up before the meeting. We will not be making the beads there. The floral earrings are made with margarite beads, little flowers with a single hole in the middle. If you have Prime, you can order a set of cutters from Amazon if you don't already have some and they will arrive in plenty of time to get your beads made beforehand. This set contains a great set for making the margarite beads, using the next to largest cutter. In the 3rd photo on this page, they are the second from the top on the right.  https://www.amazon.com/gp/product/B07K756GWN/ref=ppx_yo_dt_b_asin_title_o03_s00?ie=UTF8&psc=1 
The alternative, if you don't have the flower cutters, or don't want flowers, is to make 6-8mm beads in the shape of your choice.  You can even use all purchased beads if you don't have time to make them and just want to learn the technique. The teal colored beads in the photo are 6mm glass pearls. Feel free to contact Betty ahead of time with any questions.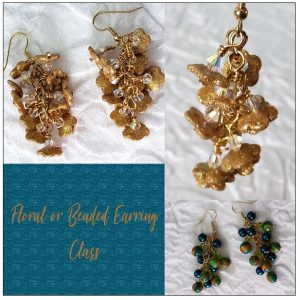 Supplies
Earwires, 1 pair – your choice of finish
Chain in same finish as earwires, medium size links – at least 12 links
24+ flat or ball headpins in same finish
24 small pre-made margarite (flower) beads or beads of your choice
24 3mm crystals or seed beads if not using ball headpins
24 4mm crystals
Additional beads, crystals, etc., as desired
Tools
Round nose pliers or looping pliers
2 pairs of chain nose pliers (can be bent, straight, or both)
Wire cutters
Any other favorite tools or supplies you think you might want to use
Note: You should have at least one each of the above tools in your toolkit. Round nose pliers, though not preferable, can suffice for the second pair of chain nose pliers. Tools can also be shared.